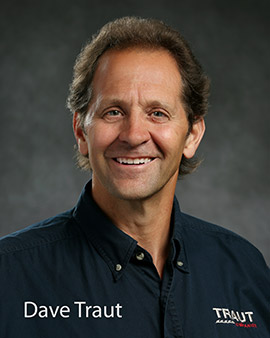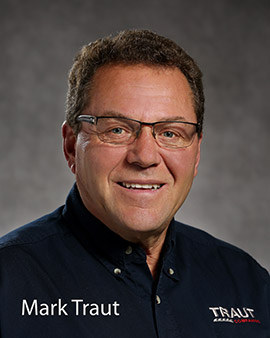 Traut Wells was started in 1959. Growing up, Mark Traut worked for the family company, and 20 years after Traut Wells opened its doors, he went full-time. Two years earlier, in 1977, his cousin, Dave Traut joined the company.
When the company was dissolved in 1982, the cousins found themselves out of work. They had grown up in the well drilling business, and it was what they knew best. To all who knew them, it wasn't hard to foresee that they were destined to start their own well drilling company. And so they did.
With a small line of credit -- $2,500 -- and private financing to back their venture, they opened their doors as Mark J. Traut Wells, Inc., (currently known best as Traut Companies) in August, 1982. They employed 10 at the time.
It was obvious from the start that Mark and Dave offered their customers not just top-of-the-line service but an integrity that customers recognized and appreciated. For instance, they honored the old company's warranties – without being paid a nickel for them. Word soon spread. Their reputation grew.
They didn't stand still. Right away, the like-minded Mark and Dave sought to diversify, offering new, better, and valuable services to their customers. By adding these extra services, they evened out the seasonal swing of residential well drilling, keeping their employees busy, year-round.
Dave and Mark didn't stop there. They looked for and expanded into related markets. Today, they employ more than 50 full-time people, in eight different departmental areas, each area having its own expert. The companies' steady growth and expertise has brought them to the attention of customers nationwide, who rely on their services.
When you know water and well drilling and its related services as well as the Traut cousins, it's not surprising to know that they've never stopped experimenting with new technology. It's what keeps them at the top of their industry. They're big supporters of their industry, and donate to technological research that is sure to lead to important and exciting advances.
While they've made obvious changes that have grown their business, Mark and Dave's dedication to their customers, their employees, and their industry has never wavered since their first day in business in 1982. Sixteen years later, they and the company they built were honored as 1998's 'Small Business of the Year.'
Traut Companies is a leader in their industry, without question. Dave and Mark are very active in their companies' day-to-day operations. They're also active supporters of the Central Minnesota Builders Association, St. Cloud Area Chamber of Commerce, Minnesota Pollution Control Agency, Minnesota Water Quality Association, Minnesota Department of Natural Resources Division of Water – and many others!