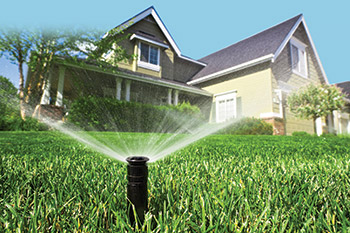 The best way to have a beautiful lawn is to have Traut Companies install an underground irrigation system. We can install and repair commercial or residential lawn irrigation systems.
Consider an irrigation system from Traut Companies an insurance policy, one that returns a beautiful, maintenance free lawn year after year due to efficient and uniform water application.
Our custom design and installed irrigation systems come with many options to meet your needs and budget.
3 Reasons Why an Automatic Sprinkler System is Beneficial and Convenient
It can save you money, since it typically uses less water than if you watered your lawn by hand.
It disperses water at an even rate. That means you can water shady and sunny areas, at different times and for different periods of time. You're in control and your watering task is done when it's most convenient for you.
Talk about convenient! It allows you to water your lawn even while you're away on vacation, or at work. That time savings adds up to more free time for you and your family to do other things you enjoy.
Free Estimates
The cost of a lawn irrigation system will depend on several things, such as: the size and complexity of your lawn, the water source you'll use, available water pressure, and water quality. We will set up a time to see what your specific wants and needs are.
No Messy Yard
We have good news for you. We use a trenchless pipe installation method that slices through the sod and lays the pipe - all at the same time – which greatly reduces the impact on your existing lawn.
Smaller Water Bills
Today's irrigation techniques may significantly reduce your water bills. In the long run, you may save money. We can calculate your payback for each available option, and what the payback time-frame would be. Then you decide what works best for you and your family.
Head-to-Head Coverage
We call this process "matched precipitation." It means that each head hits all other heads within its throw. In areas where only single coverage is received, the grass will likely turn brown in hot weather. We can fix that problem for you. A properly designed system will reduce that issue and your yard will be much better off.
Water Runoff
A number of things can cause water runoff, such as improperly set run times, compacted or sloped soil, windy conditions, or poorly adjusted sprinkler heads.
We can troubleshoot the problem and make suggestions which may include: running the system in the early morning, regularly adjusting the heads, and properly watering for the soil conditions using a timer with cycle and soak features.
Services We Provide
Installation and Service
Service for Existing Irrigation Systems
Water Treatment
Startup System
Winterization of System
Water Management Solutions
Backflow Preventer Testing
Get Your Backflow Preventers Tested!
The city of St. Cloud, MN is now requiring all backflow devices for lawn irrigation systems installed on or after January 23, 2016 to be tested every year within 15 days of the start-up of the system by a licensed backflow tester to ensure they are working properly. If the testing is not completed within the 15 days, a $75.00 service fee will be applied to your utility bill. It is the homeowner's responsibility to ensure the backflow preventer gets tested properly. Traut Companies is a licensed backflow device tester. For more information on this testing and the fee associated with it please contact Wayne at
Traut Companies, (320) 251-5090 or (800) 728-5091 or email Wayne at wayneb@trautcompanies.com.
We're proud to use these high-quality brands for your underground sprinkler system:




Let's meet and talk about the many options available to you, we have one that will both meet your needs and your budget.

We're just a phone call away. Contact Wayne at Traut Companies, (320) 251-5090 or (800) 728-5091 or email Wayne at wayneb@trautcompanies.com